OBJECTIVES
General remarks
Through the HRS4R Strategy, the URJC aims to align the internal policies of the University to the principles of the European Charter and Code for Researchers. The ultimate aim is to proactively foster a dynamic and inclusive culture of excellence in research within the University.
The Strategy is an opportunity for researchers as it implies the following guarantees:
It ensures that the recruitment conditions are open, transparent and based on merits.
It accompanies researchers in their professional training and development.
It strengthens the researchers' community encouraging synergies between research lines and collaborations between researchers.
It provides tools for researchers so that they can perform their activities safely and under the appropriate working conditions.
It promotes that URJC researchers are in a competitive position at European and international level.
The HRS4R Strategy is structured in three phases.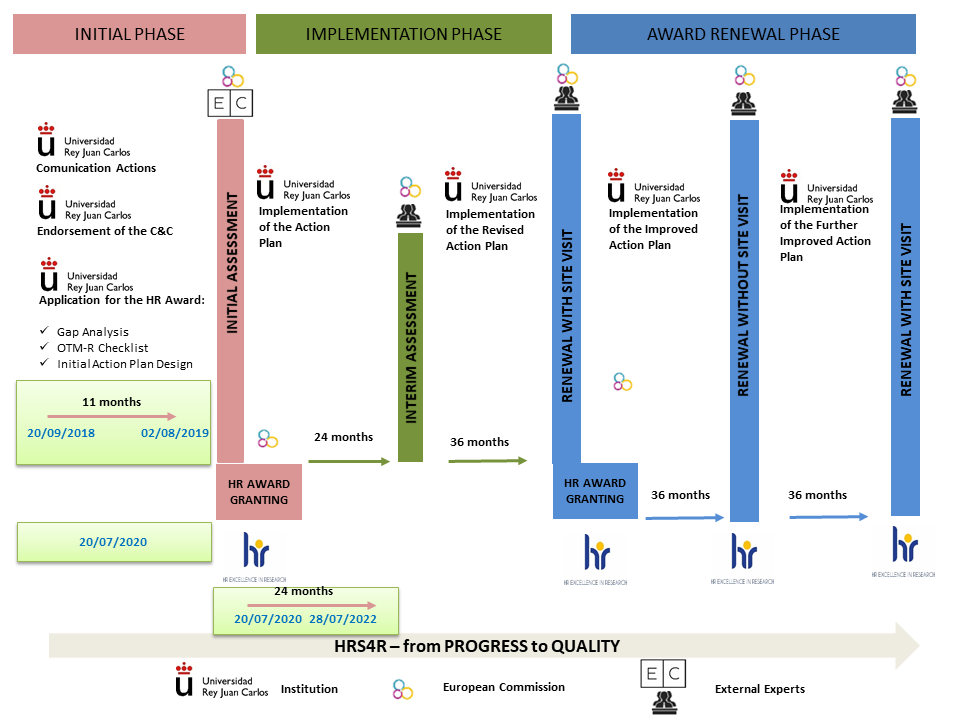 Phases
Preliminary Assessment: Gap analysis and Action Plan
To implement the HRS4R Strategy, an Action Plan was drafted when the URJC was granted the HRS4R Award. The Action Plan assessed which actions implemented by the URJC were already aligned with the European Charter and Code for Researchers and which were the areas for improvement. To structure the work to be carried out, the URJC adopted 18 actions to the end of covering the identified gaps in the four pillars of the HRS4R Strategy: (1) ethical and professional aspects; (2) recruitment and selection; (3) working conditions and (4) professional training and development.